The United States has fired dozens of cruise missile strikes at regime's airbase in Syria after President Donald Trump said on Thursday he ordered missile strikes against the airbase from which a deadly chemical weapons attack was launched.
More than 60 civilians were killed in Syria in a new chemical attack carried out by Assad regime's air force on the rebel-held Idlib province, doctors and monitoring groups have said.
The Syrian Observatory for Human Rights said the attack caused many people to choke or faint, and some had foam coming from their mouths, citing medical sources who described the symptoms as possible signs of a gas attack. All the children were under the age of eight.
Opposition activists and the AFP news agency, citing one of its journalists on the scene, later said a rocket had slammed into a hospital where the victims were being treated, bringing rubble down on medics as they struggled to deal with victims.
The casualties have been distributed across a wide range of hospitals in Idlib, with some sent north towards Turkey.
"The total number of wounded is incredible, so far it's over 200," said Mohammad, a doctor at another hospital in Idlib.
The World Health Organization said there was reason to suspect a chemical attack, with some victims displaying symptoms suggesting exposure to "a category of chemicals that includes nerve agents".
Medical charity Medicins Sans Frontieres (MSF) said people it treated had symptoms consistent with nerve agents such as Sarin.
"MSF saw eight patients with symptoms – dilated pupils, muscle spasms, involuntary defecation – consistent with exposure to neuro-toxic agents such as Sarin," the group said in a statement.
This attack is the deadliest chemical attack in Syria since sarin gas killed hundreds of civilians in the rebel-held Ghouta area near the capital in August 2013. Western states said the Assad regime was responsible for the 2013 attack but it denied the charge.
The US missile strike
In a sharp escalation of the U.S. military role in Syria, two U.S. warships fired dozens of cruise missiles from the eastern Mediterranean Sea at the airbase controlled by President Bashar al-Assad's forces in response to the poison gas attack in a rebel-held area on Tuesday, U.S. officials said.
Trump ordered the strikes just a day after he pointed the finger at Assad for this week's chemical attack.
"Tonight I ordered a targeted military strike on the airfield in Syria from where the chemical attack was launched."

"It is in this vital national security interest of the United States to prevent and deter the spread and use of deadly chemical weapons."

"There can be no dispute that Syria used banned chemical weapons, violated its obligations under the chemical weapons convention, and ignored the urging of the UN security council."

"Years of previous attempts at changing Assad's behaviour have all failed and failed very dramatically," Trump said on Thursday.
Fifty-nine Tomahawk missiles were launched from the USS Porter and USS Ross around 8:40 p.m. EDT, striking multiple targets – including the airstrip, aircraft and fuel stations – on the Shayrat Air Base, which the Pentagon says was used to store chemical weapons.
The Pentagon also said it believes the strike has "severely damaged or destroyed Syrian aircraft and support infrastructure".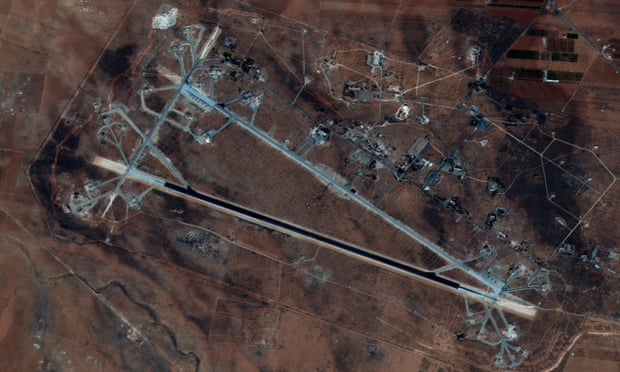 The U.S. cruise missile attack was a "one-off," a U.S. defense official told Reuters, meaning it was expected to be a single strike with no current plans for escalation.
U.S. officials said they informed Russian forces ahead of the missile attacks and that there were no strikes on sections of the base where Russians were present. But they said the administration did not seek Moscow's approval.
"Years of previous attempts at changing Assad's behavior have all failed and failed very dramatically," Trump said from his Florida resort, Mar-a-Lago, where he was attending a summit with Chinese President Xi Jinping.
However, contradicting information from the Pentagon, secretary of state Rex Tillerson told reporters that Russia had not been alerted:
"There were no discussions or prior contacts, nor had there been any since the attack with Moscow," Tillerson said.
Tillerson said Russia bore responsibility for its handling of the 2013 deal that was supposed to remove Assad's chemical weapons stockpile:
"They would act as the guarantor that these weapons would no longer be present in Syria. Clearly Russia has failed in its responsibility to deliver on that commitment from 2013."
"Either Russia has been complicit or Russia has been simply incompetent in its ability to deliver on its end of that agreement," Tillerson added.
Syria
Syrian state TV said that "American aggression" had targeted a Syrian military base with "a number of missiles and cited a Syrian military source as saying the strike had "led to losses."
The governor of Syria's Homs province, where the airbase is located, said the strikes were not believed to have caused "big human casualties" but had caused material damage.
Governor Talal Barazi told Reuters the attack served the interests of "armed terrorist groups" including Islamic State, adding that the targeted air base had been providing air support for army operations against Islamic State east of Palmyra.
"I believe – God willing – that the human casualties are not big, but there is material damage. We hope there are not many victims and martyrs," he said by telephone.
"Syrian leadership and Syrian policy will not change. This targeting was not the first and I don't believe it will be the last."
"The armed terrorist groups and Daesh [Isis] failed to target the Syrian Arab Army and Russian military positions," Barazi said.