Crown prince under pressure to provide answers about Khashoggi. He may become threat to his own project of attracting business.  
He was the man who sold the world on his vision of a Saudi economy no longer dependent on oil. Now Crown Prince Mohammed bin Salman could become the biggest risk to his own project. Everything changed when Jamal Khashoggi walked into the Saudi consulate in Istanbul on Oct. 2 and didn't come out. Allegations rapidly spread that the Washington-based journalist was murdered by a hit team sent from Riyadh. And suspicion naturally fell on the oil-rich kingdom's de facto ruler, the 33-year-old heir to the throne, says a Bloomberg report.
 Prince Mohammed, who's denied any knowledge of Khashoggi's fate, still has his defenders -– notably Donald Trump. The U.S. president and his top diplomat have cautioned against putting America's decades-old Saudi alliance at risk while they await the results of a Saudi investigation. But that's in sharp contrast to a growing chorus of outrage, putting pressure on the White House to act. In Congress, lawmakers from Trump's own party denounced the prince personally and demanded sanctions.
And, crucially for Prince Mohammed's economic plans, the global business leaders he courted are distancing themselves. The bosses of JPMorgan Chase & Co., Ford Motor Co. and Uber Technologies Inc. are among dozens of executives and policy makers scrapping plans to attend the prince's business forum next week.
'Official Complicity'
For a leader who's staked his country's future on a surge in foreign investment, that's an ominous indicator.
"What appears to be Saudi official complicity in Jamal's disappearance, and perhaps death, sends all the wrong signals to the people and groups MBS needs to change Saudi Arabia in the direction he wants,'' said Gregory Gause, a Saudi specialist at Texas A&M University.
The investors the crown prince needs were already wavering. They were fine with showing up at lavish summits, at least until Khashoggi disappeared -– but the money wasn't flowing.
Foreign direct investment slumped more than 80 percent last year. In an interview this month, the crown prince said early data suggested a partial rebound in 2018. But to meet his 2020 targets, FDI needs to soar.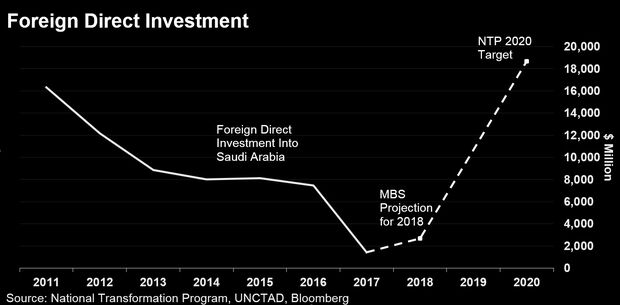 Instead, even before the Khashoggi scandal, business leaders had seen enough in Prince Mohammed's rule to unnerve them. At home, Saudi Arabia detained dozens of prominent local entrepreneurs as part of a supposed crackdown on graft. Abroad, it launched a boycott of Qatar, and got embroiled in disputes with Germany and Canada that threatened commercial deals with those countries.
Ziad Daoud, chief Middle East economist at Bloomberg Economics, identifies three new risks for business investors in Saudi Arabia.
"First, there's a possibility that their local partners get caught up in another anti-corruption campaign.''
Then there are geopolitical disputes that leave businesses from the target countries frozen out of the kingdom. "The spat with Germany took almost a year to resolve. This is an act of self-harm.''
And finally, "companies investing in Saudi Arabia could find themselves exposed to a public backlash if the allegations about Khashoggi's disappearance turn out to be true.''
When his father King Salman ascended to the throne in 2015, Prince Mohammed leapfrogged a generation of more experienced uncles and cousins to become heir to the throne. On the way he grabbed control over the key levers of the economy, including the central bank and oil giant Aramco, as well as the Defense Ministry.
War in Yemen
The crown prince set out to change a strict religious culture, and he delivered on some promises, allowing women to drive cars and loosening Saudi social life by permitting cinemas and concerts. Those measures won him fanfares in the West.
Meanwhile, Prince Mohammed was abandoning a traditionally cautious foreign policy and seeking to assert Saudi power –- which led him to intervene in Yemen's civil war. More than three years of Saudi bombing, directed against rebels said to be backed by Iran, has left thousands of civilians dead.
On the economic front, the prince wanted to ditch a model based on state handouts of oil cash, and build a new private sector. A key driver was Saudi Arabia's slowdown after the crude-price shock of 2014. The economy contracted 0.9 percent last year, and while the government expects growth of 2.1 percent in 2019, that's still only about half the average pace between 2000 and 2014.
Prince Mohammed worked hard to court U.S. executives who could potentially help meet his goals. During a visit earlier this year he met Amazon.com Inc. Chief Executive Officer Jeff Bezos and Microsoft Corp.'s Satya Nadella. But Prince Mohammed had to backtrack on some policies. His efforts to cut salaries and allowance met with signs of public opposition.
'That Has Consequences'
And opposition to any of his initiatives hasn't been tolerated, in a climate of fear. An economist who questioned the Aramco sale plan was arrested. So were women activists who'd campaigned for an end to the driving ban. So were dozens of people accused of collaboration with Qatar –- a charge also leveled at Khashoggi, before he disappeared.
"Was it a planned, horrendous killing, or an operation that has gone badly wrong?'' said James M. Dorsey, a Middle East scholar at Nanyang Technological University in Singapore. The Saudi response to the crisis has been "abysmal,'' he said, as authorities responded first with blanket denials and then with "conspiracy theories.''
"They have lost any high ground,'' Dorsey said. "That has consequences for MBS.''